In his mid-thirties and already in the midst of an established career with the Red Door Family Shelter in Toronto, Sam Gennidakis' foray into health care was an unanticipated result of a family tragedy.
But even before Sam became a student at The Michener Institute of Education at UHN, he knew he was meant for a career where he could help others. He already had a wealth of experience: from teaching, to non-profit and charity work, as well as his own family's experience in the health system.
Though his journey to The Michener Institute has been unconventional, it earned Sam the Dr. Diana Michener Schatz Scholarship at the 2017 Michener Student Awards Ceremony last week.
One of the most prestigious awards for Michener students, the scholarship recognizes a student who has changed careers and demonstrated dedication to their new field.
Focusing on empathy and optimism
"I thought I knew things about where I wanted to go with my life," Sam says. "As I did them, they kept opening doors for me. I just went forward with what was in front of me."
As Sam finished university, he jumped from interest to interest, including teaching, research and social work. He even went to culinary school "for fun," he says, while taking some time off after completing three degrees in eight years.
At the root of his career trajectory were three distinct passions: science, education and helping those in need.
Sam's first brush with caring for others started when he was eight years-old and he was beginning to understand the reality of having a parent with a severe mental illness.
"My mom had schizophrenia," Sam says. "There was a distinct period when I was really young where I had to come to terms with myself, and how I looked at the disease."
Even as a child, Sam remembers realizing the impact illness can have on a family, and the difference empathy, caring and understanding can have on someone facing hardship.
"I recall the turmoil of balancing my family, my own needs, and the pain that came with the illness," he says. "I realized that illness extended beyond the person who needed care to those that surrounded them."
Sam says the experience with his own family led him to a seven-year tenure with Red Door Family Shelter. He believes the Red Door helped prepare him for a career in health care, teaching him the person-first approach to care that he practices now.
As he thrived with the charity, however, he still craved a career that would allow for learning science, mentoring and research, while still helping individuals in need.
Coming full circle
Sam's life changed unexpectedly in early 2014 when he became the primary caregiver for his older brother during the final three months of his life.
As Sam was getting ready to take a bus to Kingston one evening to volunteer at an event at Queen's University, he got a phone call from his father telling him his brother was sick and in the hospital.
"I had to rush to his bedside, not having seen him or really spoken to him in a long time," says Sam, whose relationship with his brother was strained due in large part to a 15-year age gap.
His brother was diagnosed with adult acute myeloid leukemia and the disease was at an advanced stage. For the next three months, Sam fell into a routine working at the Red Door Shelter during the day and living at his brother's bedside in a hospital ICU at night.
Listening to the beeping of his brother's life support, and the air moving in and out of the ventilator, it got Sam thinking: what more could he do with his life to help people in this situation?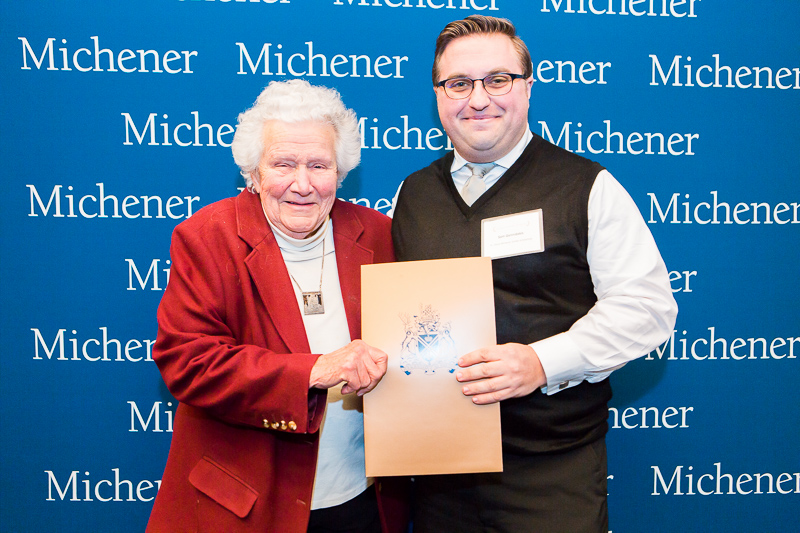 Over the course of his brother's treatment, Sam became familiar with the various individuals and teams assigned to his care, but it was the respiratory therapists – a profession Sam didn't even know existed before – that had the most profound impact on him.
As he watched the respiratory therapists do their work, Sam was intrigued by their combination of science and technical skill, and their role in patient care, explaining to him what was going on and what they were doing to help his brother.
Though Sam's brother woke up after a number of weeks under sedation, the leukemia returned and in April 2014, he died.
"Despite how horrible the whole process was, it taught me a lot about health care itself, and about resiliency in people," Sam says.
Shortly after his brother's death, Sam made the decision to leave his career at the Red Door Shelter to become a respiratory therapist. Now, three years later, he is completing a clinical rotation before he graduates from The Michener Institute in June 2018.
"All the things I remember about how I wanted to contribute to society, or what I want to do with myself have come full circle, truthfully," Sam says. "I've found a career where I can fulfill all aspects."
As a respiratory therapist, Sam hopes he can raise awareness of the profession and the level of care respiratory therapists provide. Moreover, he says, he hopes he can bring empathy and compassion from his own experiences to help patients.
For now, however, Sam says he's humbled to be recognized at the Michener Student Awards Ceremony.
"To be recognized for my personal journey and dedication to my newfound profession has helped eliminate any remaining doubts I may have had after making such a big change in my life.
"It goes without saying that I'm surprised, but truly appreciative of the support and the recognition."
The 2017 Student Awards Ceremony saw 60 scholarships, awards and bursaries awarded to 40 students. Thanks to the generosity of the donor community and in recognition of the exceptional performance of students, The Michener Institute of Education at UHN awarded over $70,000 in scholarships, bursaries and awards.
This article was originally published on November 13, 2017 by The Michener Institute of Education at UHN.